Ten staff members of the National Treasury have tested positive for Covid-19.
This is after 50 officers were tested last week. In a notice dated 13th July, 2020 seen by LitKenya.com, the ministry says that having 20 per cent of those turning positive was high and alarming.
The Ministry of Health has been requested to conduct testing for all staff, with the mass testing having began today (Tuesday, 14th July) at 9am.
They will be testing 200 samples in a single day, and will continue for three days.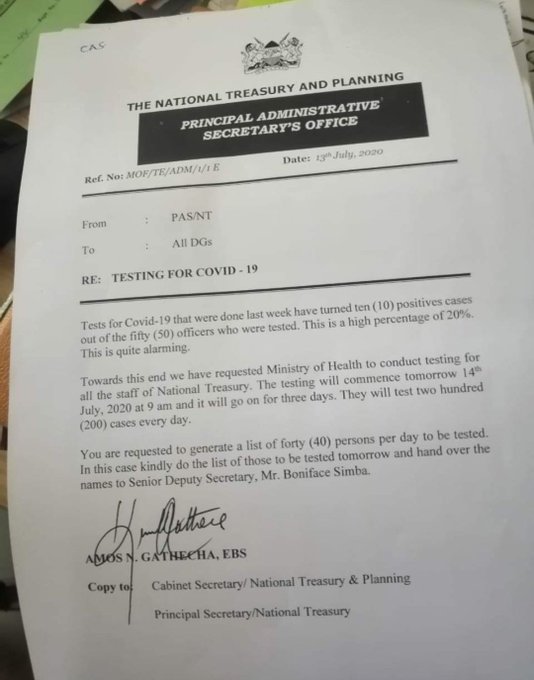 Kenya on Tuesday, 14th July, registered 497 new coronavirus cases. This is after a total of 4,922 samples were tested. Kenya's total number of confirmed Covid-19 cases now stands at 10,791.
Speaking at Afya House, Nairobi, during the daily Covid-19 updates, Health Chief Administrative Secretary Mercy Mwangangi noted that the figures would keep rising and should worry Kenyans.
Dr Mwangangi also noted that five more people have succumbed to the virus, raising the total number of fatalities in the country to 202.
However, in the last 24 hours, 71 have been discharged raising the recoveries to 3,017.
Kenya now has 7, 574 active cases of Covid-19.
Acting Health DG Patrick Amoth had earlier on announced that 41 staff workers at the Pumwani Maternity Hospital tested positive for Covid-19.
While assessing the situation outside the hospital, Dr Amoth said out of the 290 staff that were tested, 19 are healthcare workers, while 22 are support staff.
Dr Amoth also stated an isolation centre would be created for staff who would not have met the criteria to self-isolate at home.
However, the acting Health DG assured Kenyans who want to visit the facility that the hospital is safe.
Speaking on Monday, 13th July , 2020 during COVID-19 daily briefings on Monday, Health CS Mutahi Kagwe said that mass testing was being conducted at the hospital after a section of Kenyans complained.