Embakasi East MP Babu Owino has blasted Education Permanent Secretary Belio Kipsang for banning online lessons as students continue staying at home due to Covid-19.
The controversial lawmaker has been offering online revision sessions for the Kenya Certificate of Secondary Education (KCSE) exam candidates through his Facebook page, which he started last Friday.
Today (Friday, 8th May), Babu Owino was set to take the candidates through chemistry revision, after having taught mathematics last week.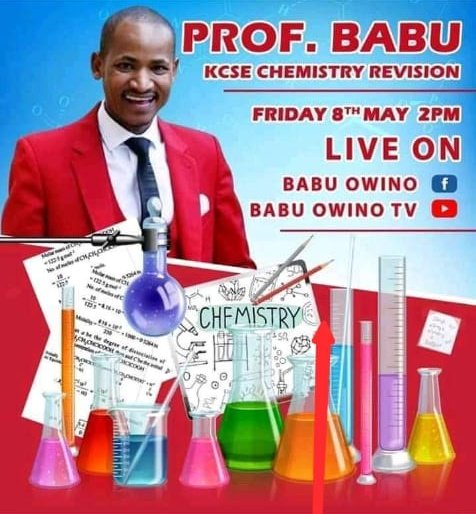 However, the Education PS fired off a warning to Babu Owino, saying that he was committing a crime by conducting the online revision classes with this year's KCSE exam candidates.
Speaking at Parliament in Nairobi on Thursday 7, the PS said that anyone offering to teach students without being qualified to do was committing an offence.
He said the same applies to anyone circulating e-learning information that is not approved by the Kenya Institute of Curriculum Development (KICD).
In his response, Babu has vowed to continue assisting the candidates with their revision. He accused the PS of manifesting his ignorance by banning his online revision classes.
"The Principal Secretary Education, Belio Kipsang, is BASKING IN THE GLORY OF HIS IGNORANCE by banning our lessons. We will PROCEED with our KCSE CHEMISTRY REVISION tomorrow at 2pm. Stay tuned on my Facebook," he wrote.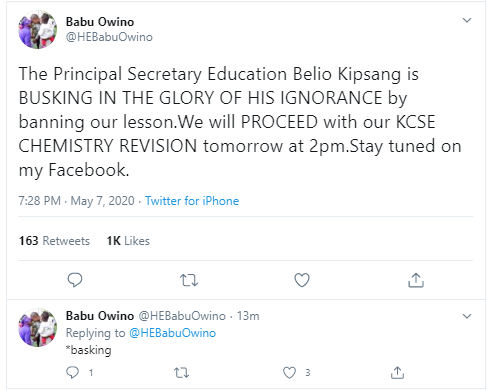 Babu Owino said he had decided to take up the role of a teacher to help the candidates who have been at home for several weeks since the government closed all schools due to the coronavirus outbreak.