Governor Wycliffe Oparanya inspects the ultra-modern Kakamega County Referral Hospital/PHOTO/COURTESY
Kakamega Governor Wycliffe Ambetsa Oparanya has said the first phase of the ultra-modern Ksh6 billion Kakamega County Referral Hospital will be completed by the end of June.
The governor explained that the contractor could not complete the work in March as earlier expected due to inconsistency in cash flow from the Exchequer.
Speaking after a tour of the project, Oparanya said he had instituted a steering and technical committee to ensure its timely completion and adequate equipping after completion and added that the county would borrow Ksh2 billion from financial institutions to complete the second phase.
The governor noted that the second phase would comprise a male and female ward, School of Medicine, and a modern mortuary, in addition to the purchase of additional medical equipment.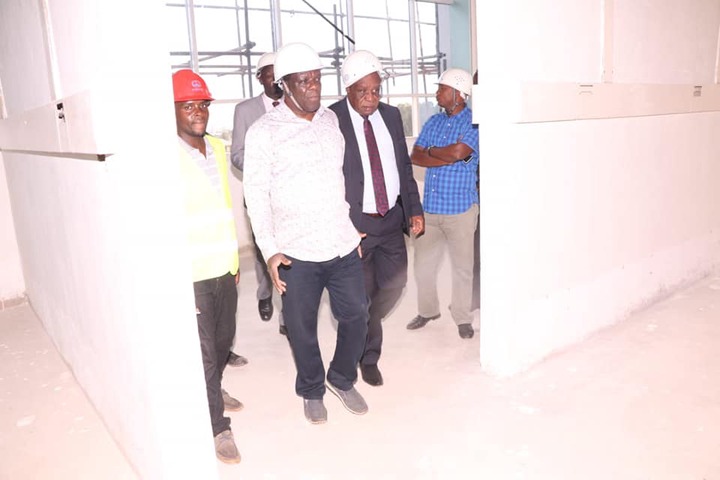 He observed that the facility would create jobs for 3,000 people, including doctors, nurses, lab technicians, nurses, support staff and other medical experts.
Already, the first phase of the doctors' plaza is complete. Construction of three more plazas to house the doctors is in the pipeline.
Oparanya announced that during his recent visits to India and the United States, he entered into partnerships with medical institutions in an association that would see them second their doctors to the facility to provide quality medical services.
"We expect this to be one of the the best medical facilities in the country, as specialists from top hospitals globally will be linked to the hospital to dispense their services."
Do you have any fascinating, funny, intriguing, troubling or inspiring story that you would wish to share? Please email us at: info@litkenya.com and we will publish it on Litkenya.com