Just a few days ago, Health Cabinet Secretary Mutahi Kagwe slammed a section of Kenyans, saying that they are an indisciplined and difficult people. And do you think he was wrong by saying so?
Well, the taps installed at Uhuru Park, Nairobi, to help contain the spread of Covid-19, had been vandalised by Thursday morning, 26th March.
The Ministry of Health had provided the taps to enable Nairobi residents to regularly wash their hands and keep coronavirus at bay.
The taps have all been stolen after being installed on Tuesday, 24th March.
A section of Kenyans on Twitter are now applauding President Uhuru Kenyatta's move to declare an evening-to-morning curfew, saying it is the only way Kenyans can be helped.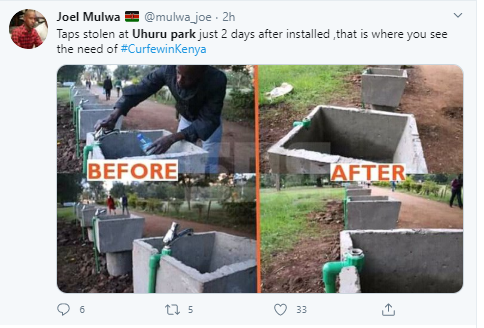 Some argue that Kenyans are only angry at politicians who steal because it isn't them stealing.
"In other news, Kenyans stole the taps that were installed at Uhuru Park in a bid to contain coronavirus spread. The taps were meant to provide water to the public. I've no idea why Kenyans are this way. Seems we're only angry at politicians who steal because it isn't us stealing," Bravin Yuri tweeted.

Some have argued that Kenyans must change their attitude from thinking that public property is to be stolen or Misused.
Here are some of the reactions.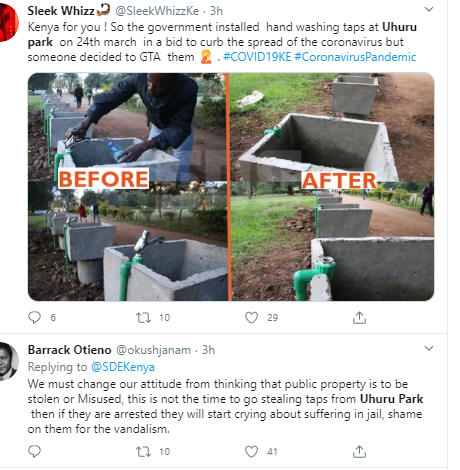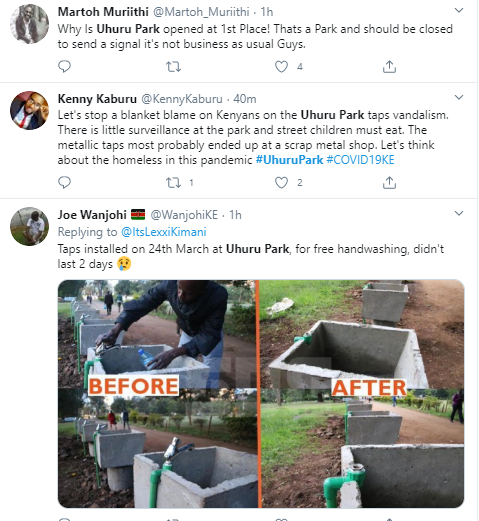 Do you have any fascinating, funny, intriguing, troubling or inspiring story that you would wish to share? Please email us at: info@litkenya.com and we will publish it on Litkenya.com