The Kenya Power and Lighting Company (KPLC) has spoken following a public uproar over an incident in which a woman and her child got electrocuted in Kwale County.
On Friday, 31st July, in the morning, the woman unknowingly stepped on a live electricity wire with her baby strapped to her back in the Kombani area of Ukunda in Kwale County.
This resulted from a fallen electricity pole.
The incident sparked an uproar online, with many Kenyans accusing Kenya Power of negligence.
The power utility came under attack after the sad news went viral, with some Kenyans accusing the company of killing innocent Kenyans through negligence.
Responding to the incident, the company, in a statement issued on Friday, 31st July, 2020 regretted the "unfortunate incident", promising to investigate the matter.
The company also sent a message of condolence to the bereaved family.
"We regret the incident that took place in Kombani, Ukunda, involving a woman and her baby. We will investigate this incident and take appropriate action. Our condolences go to the bereaved family," Kenya Power said.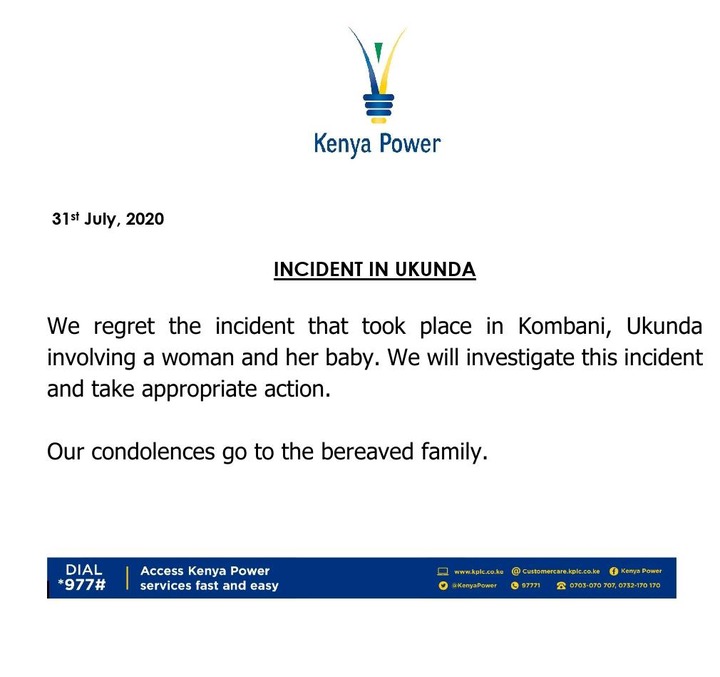 This, however, is not the first time a person has been electrocuted in recent times.
Last December, a woman was electrocuted in the Amref area of the Kibra slums, Nairobi, while taking bath in a public toilet.
Kenya Power officials were notified to disconnect power for the body to be removed.
Do you have any fascinating, funny, intriguing, troubling or inspiring story that you would wish to share? Please email us at: info@litkenya.com and we will publish it on Litkenya.com