Kenya Film Classification Board (KFCB) Chief Executive Officer Ezekiel Mutua has set the internet ablaze with an old photograph.
The moral cop took to his official social media handles on Tuesday evening and shared one of his photos from his youthful times.
In the TBT photo, Dr Mutua is seen with the late Ghanaian diplomat, Kofi Annan, who served as the seventh Secretary-General of the United Nations from January 1997 to December 2006.
A military helicopter is seen in the background, and each of them has a bodyguard.
Mutua captioned the photo, "When I was young and powerful!"
However, Kenyans on Twitter sparked off hilarious reactions, with some telling him that he looked then like Agriculture Cabinet Secretary Peter Munya.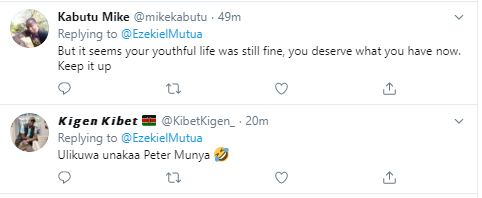 Some, however, took an interest in Dr Mutua's hair. One of the Twitter users asked why Mutua's hair is still dark today, and looking exactly as it was in the TBT photo.
"Doktori, why is your hair still dark? I'm not yet 30s and I have grey hair! Could it be stress?" posed a Twitter user.
In his response, Mutua hilariously told the Twitter user that his hair might be turning grey because of being broke, arguing that he is 50 and his hair is still black.
"Ni kuishiwa brathe. Nishagonga 50 and my hair is still black. Pesa ni sabuni ya roho," answered Dr Mutua.

Some jokingly told Dr Mutua that he looked like a bodyguard to the late Kofi Annan then.
Here are some of the mixed reactions.